The Mark Grinstein Music Library
The Mark Grinstein Music Library holds 50,000 titles including music notes, books, CDs, a rare collection of records, audio and video items, encyclopedias, music dictionaries, anthologies and periodicals. Most of the material is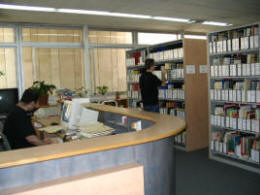 catalogued online and enables an easy and effective search. The library provides its services to the school's faculty and students as well as to students from the faculty of the arts.
The library's listening room enables students & faculty alike direct access to its video & audio collections, as well as acess to all concert recordings held at the "Clairmont" Hall.
The library provides online internet service, as well as easy access to central dabase sites and directories ("Grove Music Online" etc.).