Search my Site:
---
Get our Bad Breath Research Newsletter!
---


Over the past 25 years, we have been working on a solution that will reduce bad breath by interrupting the adhesion of the bacteria to the oral surfaces. We understood the potential of a two-phase, oil:water mixtures to remove oral bacteria and to combat bad breath. Initially, it was found that a high proportion of oral bacteria adhere to oil droplets. At first, this combination did not seem effective in improving the oral hygiene and were difficult to handle technically.
Trying many different formulas and conducting years of experiments brought us a combination that proved itself both in experimental and clinical tests, and finally, in 1992, the prototype two-phase oil-water mouthwash was reformulated and introduced to the Israeli market (called "Assuta") and in 1996 to the British market (called Dentyl-pH). Dentyl-pH, patented by Tel-Aviv University around the world, is a leading mouthwash in the UK and control about 20% of the UK mouthwash market.
Read more about the Development of the Two-Phase Mouthwash
Read a few newspaper reviews about the product
To Dentyl pH mouthwash website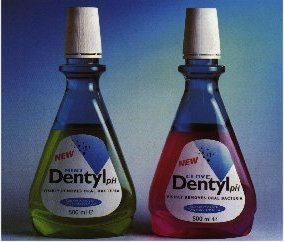 For further information about the 2 phase Mouthwash, please contact Prof. Rosenberg or go to the Dentyl-pH website.